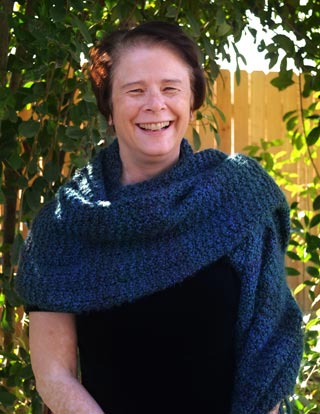 Hello! I'm Sharon J. Mondragon. My family and friends call me Sherry and I hope that as we get to know each other, you will, too. I'm a novelist, knitter, wife, mom, and grandma who has settled in North Texas after many years of trekking to various duty stations with my soldier/hero/beloved husband.
You might call me "The Knitting Novelist," as my most recent book grew out of my involvement with prayer shawl ministry. What's a prayer shawl, you ask? It's a shawl that's knitted, crocheted, or woven to give as a gift to someone who's going through a challenge and/or heartbreak. Prayer shawl makers pray as they knit, crochet, and weave to infuse the shawl with a sense of God's loving presence. Remember wrapping up in that afghan your grandmother made you, feeling her love seep into you? Prayer shawls are something like that.
My book, The Heavenly Hugs Prayer Shawl Ministry is about a group of women who take their ministry "public," knitting in the local mall during the Christmas shopping season. They not only touch others with the love and care of God, but find hope and healing for raw places in their own hearts.
I'm so glad you're here! Feel free to browse, linger, and interact. I look forward to sharing my stories and ideas with you and, in turn, hearing yours.
Blessings,
Sherry